These details are summarised from the official website. Please refer to the official website for the most up-to-date information.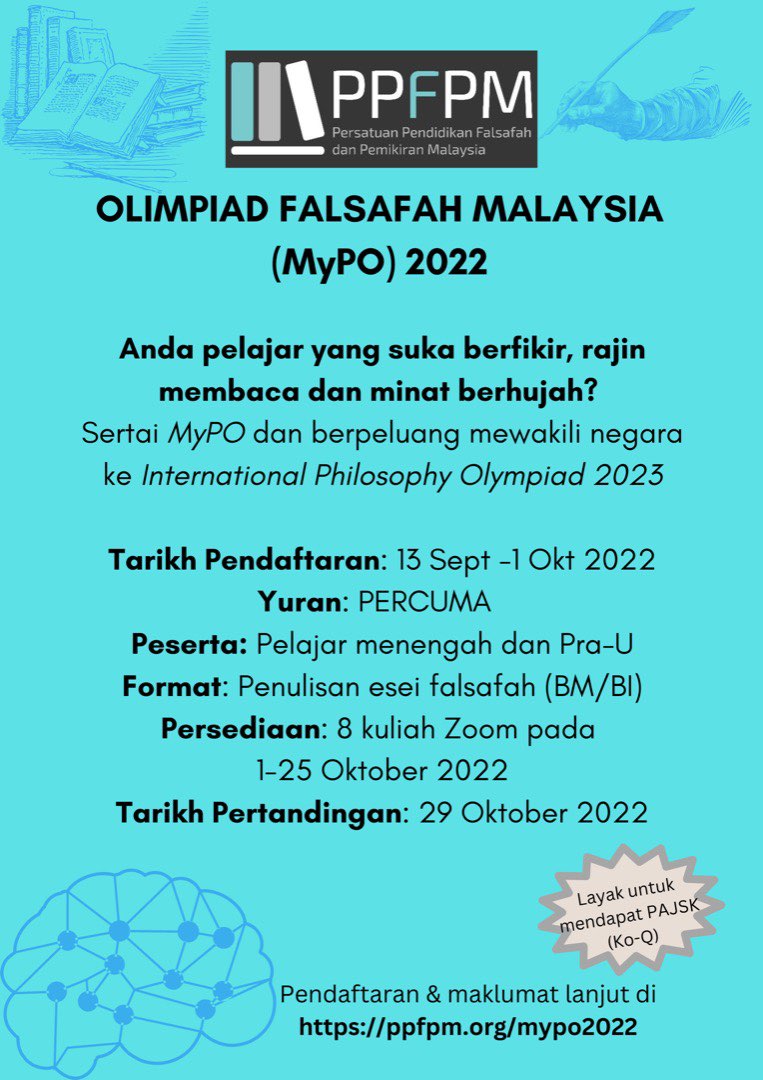 Olimpiad Falsafah Malaysia (MyPO) is the Malaysian national selection test for the International Philosophy Olympiad (IPO).
Registration:
Register each participant individually at the official registration form.
Registration deadline: 29 October 2022
Competition date:
29th October 2022 (Saturday)
Fee per student:
Free
Format:
MyPO 2022 is an online philosophy essay writing competition.
Participants were given 5 topics related to philosophy and thinking; Participants choose one of the topics and write an essay based on that topic.
The time period given is 12 hours (10am - 10pm).
The written essay must be original (no references allowed), with a length of 1000 – 2000 words.
Essays can be written in Malay or English
Essays will be evaluated by a panel of experts from PPFPM consisting of academics and philosophy educators
Preparation:
Before the competition, participants will follow a series of 8 online lectures (via Zoom) on the main topics of philosophy in preparation for MyPO 2022. The lectures will be held on :
Dates: 1, 4, 8, 11, 15, 18, 22 & 25 October 2022 (Tuesday & Saturday) Time: 8.00pm – 9.30pm A recording of the lecture will be given to the participants. Students must write a synopsis/reflection for each lecture given.
Eligibility:
This competition is open to all students who meet the following conditions:
Currently attending high school or pre-university.
Malaysian
Under 19 years of age
Have not started university degree studies yet.
Important Dates
| Registration Open | September 13, 2022 |
| --- | --- |
| Registration Closed | October 1, 2022 |
| Philosophy Lecture Series | 1 – 25 October 2022 |
| MyPO | October 29, 2022 |
| Winners Announced | November 15, 2022 |
What's after MyPO?
A total of 15 best participants from MyPO 2022 will be selected to attend the Malaysian Philosophy Olympiad Workshop which will be held on 15 - 20 December 2022 (school holidays).
The workshop will be held face to face (Face to Face) in compliance with the latest COVID-19 SOP. Completing this workshop is a philosophy lecture, an idea discussion session, and a writing exercise.
At the end of this program, all participants will sit for the final evaluation of MyPO 2022 to select the national representative for IPO 2023.
The tentative location for this program is the Perpustakaan Awam Cawangan Kajang ( PPAS Kajang ), Selangor.
Contact:
010-284-0360 ( En. Ilyas Adam )
016-672-4825 ( Dr. Alinor Kadir )
012-341-3546 ( En. Suhaimi Ramly )
Links: